What is a Modernist House?
2017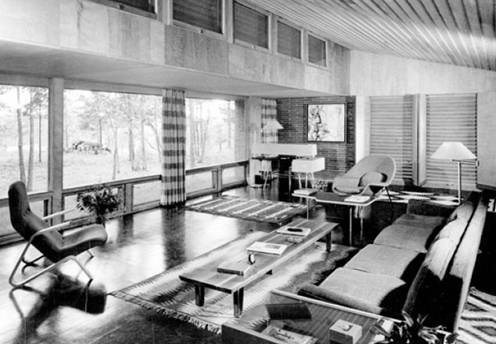 Modernist design is characterized by features such as combining traditionally separate common areas (like the living room and the dining room, for example), open interior floor plans with vaulted ceilings, large and numerous windows, flat or low pitched roofs, long exposed beams, extensive use of glass to bring in natural light, and aesthetic geometric forms. Learn more about Modernist design types.
Modernism is both a design and a way of living. Early Modernist architects wanted to change the way the average person lived by making houses and objects more affordable through efficiencies in production and building. There is a focus on a large, single family space -- where kitchen, dining, and living rooms flow into each other without impediment -- with smaller more private bedrooms. The blur between indoors and outdoors via vast expanses of windows and inner courtyards continued the emphasis on full-family gathering spaces, both inside and out. Gone were formal living and dining rooms.
---